Amazon Live launched in 2019, it is relatively slow compared to China's Taobao live streams. Taobao hosts tens of thousands of live streams every day, covering categories from clothing and jewelry to agriculture.
As we all know, with the rapid development of the Internet, people's shopping behaviors are constantly changing. In addition, it is relatively popular for social e-commerce and various marketing methods. Hence live streams and video content marketing have become some of the best marketing methods at the moment.
What is Amazon Live?
Amazon Live is the program that allows sellers to promote the discovery of their products by hosting their own live streams for customers on Amazon.
Amazon customers can find live streams in multiple locations on Amazon.com. The live stream can be displayed on the detail page of the product belonging to the live broadcast brand, or on various placements viewed by Amazon customers.
What are the benefit of Amazon Live?
1. It can increase product visibility and exposure.
Because consumers can find sellers' live streams on Amazon.com and find live streams on product detail pages, Amazon Store, and other placements browsed by shoppers.
2. Amazon sellers can chat and interact with customers in real-time in the live stream.
3. The seller only needs to select the product to be added from the brand, and immediately display it in the live stream.
4. After the live stream, the seller can evaluate the effect of the live stream, including the number of views, product clicks, and sales.
5. Amazon Live page will currently keep your live videos permanently. After the live stream, users can also see your live stream on the live page.
Who can use Amazon Live to promote products?
Amazon Live is available for:
Brand Registered sellers;
Vendors on the U.S. marketplace;
Amazon Influencers with an active influencer storefront.
If you meet one of these requirements, you have access to set up your Creator account and start streaming!
How to start your Amazon livestream?
1. Firstly, you need to download the Amazon Live Creator app.
The Creator app is a live stream application that helps brands connect with customers on Amazon. It is full of interesting and unique features that can help brands display products, interact with Amazon customers in real time, and drive sales.
2. Second, you can create your Live account by signing into your Seller, Vendor, or Influencer account.
3. Then, you can select your brand and edit your profile.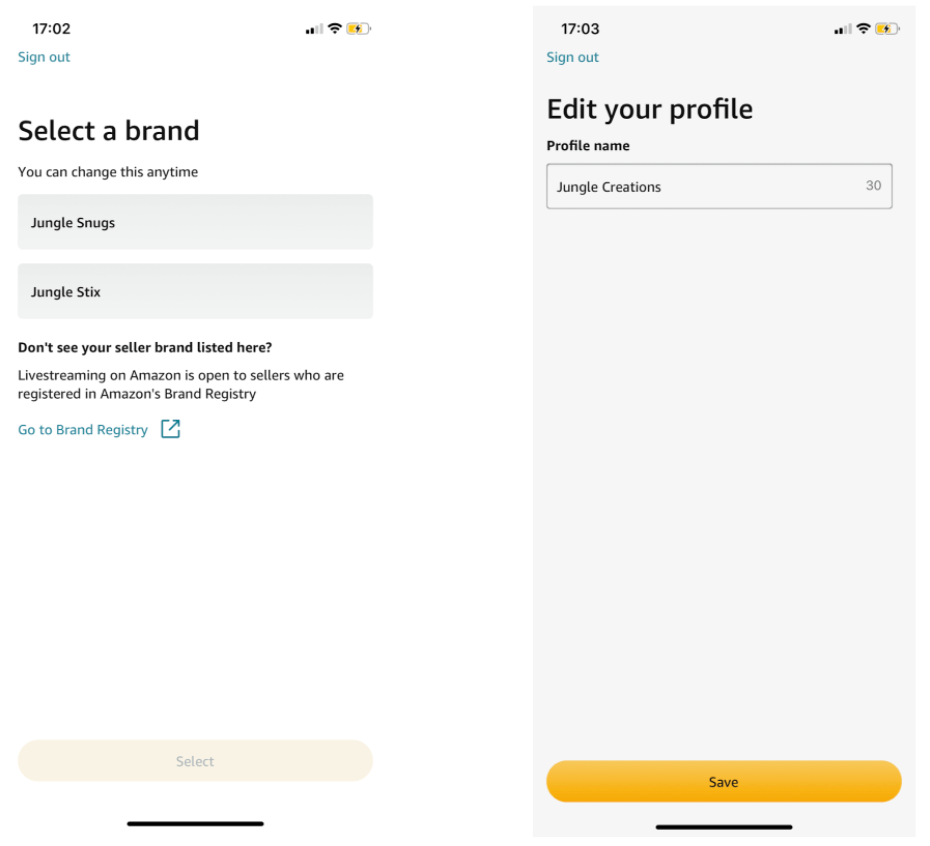 4. Add products related to your live stream so that users can shop immediately when they see your display of product usage. Once you have selected the product, remember to name the live broadcast with the main keywords for better Amazon SEO optimization.
5. So far, you're ready to set up your stream!
Live streaming on Amazon is free. You can stream for free on product detail pages, brand stores, and Amazon.com/live. If you want to provide more traffic to your live stream, you can expand your live stream by Amazon advertising.
Final
Livestreams are an inevitable trend for the eCommerce market.
Nowadays, consumers don't want to miss anything and want to be the first to learn about the latest news. Live streaming on Facebook and Instagram is the ultimate way to interact with your audience in real-time and share the experience with them. Like Facebook and Instagram live broadcast, Amazon Live also provides powerful interactive opportunities. It allows brand owners to broadcast live broadcasts to promote their products.
Special Offer
In order to provide better service for Amazon sellers just like you, now Captain BI is launching a survey program, we want to look for the Amazon sellers to talk with them things about running the Amazon business and the things they need most.
In return, we will reward sellers that finish the call survey with a gift card value from $10 to $100.
Captain BI software provide 90 days free trial, get it now!
Read More:
6 Steps to build your brand on Amazon in 2021
The Ultimate Guide to Find Reliable Chinese Suppliers (2021 updated)
How to write high conversion rate Amazon product descriptions?